Infrastructure
The School has two buildings and a playground for games and other outdoor activities. The school is fully Wi-Fi enabled and has smart class enabled classrooms. The school building comprises of the following: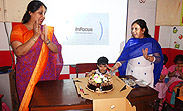 Smart Learn Classrooms
We have been using digitized classroom concept for all classes. Every classroom has digital board to transform learning spaces into interactive, collaborative environments where students are both inspired and focused. With a digital board interactive whiteboard, teachers can interact with dynamic multimedia content with ease. Interactive whiteboards make learning a visual, engaging experience for students, which helps deepen understanding and promote retention of course material.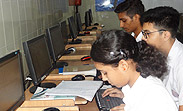 Computer Labs
The school facilitates the students with two state of the art Computer Labs equipped with the latest Computers, Printers and Scanners and Internet connectivity. There is a provision for Audio Video presentations and other multimedia activities through the LCD projector to integrate classroom teaching with technology.
Library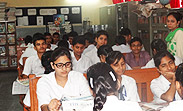 'Give thy mind to books and libraries and the literature and lore of the ages with give thee the wisdom of sage and seer'
To cater to the inquisitive needs of the young minds & to inculcate good reading habits in our students, the school has an air-conditioned library. The library has Computerized Book Issuing System, thorough reading material on innumerable subjects- reference books, encyclopedias, journals, magazines, Audio-Visual aids, language games etc. Activities like book clubs, writer's forum, literaryclubs and book fairs are frequently organized.
Music and Dance Room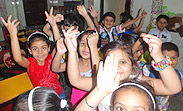 "Music and Dance is the hidden language of the soul."
Music Room gives the students a chance to learn western and Indian vocal and instrumental music. Children can practice and enjoy playing different forms of music and sing songs to give vent to their talent. Classical and Western style dances are taught to the students by teachers and professional who are expert in their fields.
Play Ground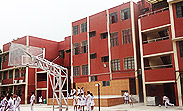 "Sports serve society by providing vivid examples of excellence."
The school boasts of vast play areas for the students. To ensure holistic development, of the students, games & sports are an integral part of the school curriculum. Sports like Basketball, Volley ball and Badminton are brought alive with energetic sports enthusiasts. Professional coaches train the students to excel in the sport/game of their choice.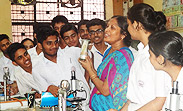 Medical room
The Medical facilities offered in the school with the help of a qualified doctor and a caring nursing staff. The clinic has a two bedded medical room fully equipped to cater to any unforeseen emergency. In case of any accident /emergency a round-the clock ambulance is kept in readiness to transfer any seriously sick/injured child to the nearby hospital. Regular medical checkups are conducted class-wise and a record of every student is maintained.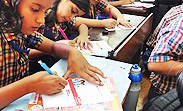 Counsellors room
"Children require guidance and sympathy for more than instruction."
To take care of the mental health of the students, guidance and counseling by Expert Counsellor is available to students, teachers and parents. Regular workshops are conducted for the students and their Parents regarding appropriate issues.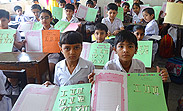 Art room
To enable the students to express their ideas through colours, the school has well designed and well maintained Art room for Junior and Senior students. They can choose from a variety of options available and experiment with oil painting, glass painting, crayons, sketches, poster colours, etc.