Transport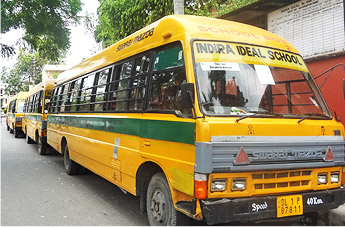 School has a fleet of dedicated buses to take the students to and fro. Those using buses will be picked and dropped only at the stops pre-fixed by the school. No child will be picked from his/her door step. It is the responsibility of the parents/guardians to bring and pick up their wards to and from the school bus stops.
In case a pupil wants to discontinue the use of the transport she will have to give one month's notice or one month's charges in lieu there of.
For any change in the transport arrangement, a written request stating adequate reasons should be made.
The school provides transport facilities on selected routes.
Bus fee is payable in advance for two months along with tuition fee.
Discontinuation of conveyance in mid-session is not allowed.
In unavoidable cases, one month's written notice for withdrawal of bus service must be submitted or one month's fee will be charged in lieu of notice.
All students availing the school bus must ensure that they maintain discipline in & out of the bus or they may be deprived of this facility.
Students should not drive motorized vehicles to and from the school. If found doing so disciplinary action will be taken against the defaulters.
Mode of transport should be duly intimated to school office and class teacher.
The bus students will wear Identity Card with yellow string for identification.